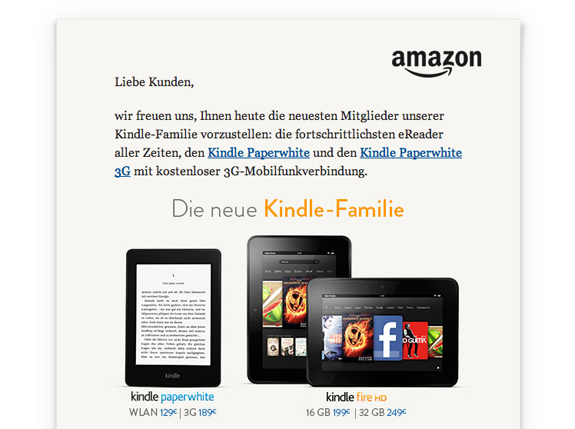 Earlier today I checked the prices on ebay for Amazon's Kindle Paperwhite, the awesome eReader presented in September. I didn't order one because I hoped the prices for imports will drop in the coming weeks.
In summer I was about to buy a normal Kindle because I wanted one for our travel to Sydney. But after I read about an upcoming Amazon event and the rumors about new Kindles, I postponed my plans. When the day of the presentation came I was really enthusiastic about the new Paperwhite. It was exactly what I was hoping for. The bad news: The sale should start in October and delivery would be possible in the US only. That's why I checked the prices on ebay nearly every day.
Today Amazon was surprising me a lot with its announcement that the Kindle Paperwhite (129 Euro) and the Kindle Paperwhite 3G (189 Euro) are ready for pre-order in Germany! Shipping will start on the 22nd of November (first come, first served). I already ordered mine.