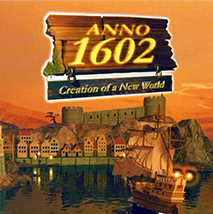 The first Anno (Anno 1602) released in 1998 was one of my favorite pc games in my youth. I never really played the following parts but I still remember long Anno nights with my friends. The game was simple and complex at the same time: Discover islands, build your own empire and listen to the needs of your people. Fighting was not very important in the beginning. That's it. Yes, Anno 1602 was a great game.
Anno in the browser
Yesterday Ubisoft Blue Byte* announced they will bring Anno in the browser after they already started the The Settlers Online (browser version of the The Settlers series) last year. I am really excited about this because I think it's a great idea to combine the old methods of the game with the possibility to play and interact with thousands of other players.
I'm just a little bit afraid that the complexity in Anno and the detailed graphic style could destroy the charm of the first browser games which focused on interaction and very simple graphic elements. But let's hope. Here is the trailer for Anno Online:
*The publisher of Anno 1602 was Sunflowers which was acquired by Ubisoft in 2007. Blue Byte is a german game publisher who created the famous The Settlers series and was also acquired by Ubisoft, but in 2001. After 2007 they worked as Ubisoft Blue Byte on both games: The Settlers and Anno.